Take in the fancy vintage font gifts with flowing artwork of the alphabet in monograms of A to Z. Look up the word Monarchia, and it will not mention anything about it being a font. You can find terms of "absolute rule" and "monarchy." Monarchia is neither of those. And it will fool your dictionary as a misspelled word. It is a vintage font that I had seen years ago. I do not have it as a written font in any program, and I have it as an image for each letter. I cannot say the exact origin, but I love the fancy line art of the letters. 2013, it was first added on products in my AtoZunMe store. It did not catch on right away. Recently, it has been one of the top seller designs in my store. Here are four of the top sellers this month. Not every product on Zazzle has the alphabet from A to Z with Monarchia. Contact me at admin@giftsyoutreasure.com for a product made for you. See all of the Monarchia theme gifts here.
(Note: Colored text are clickable links)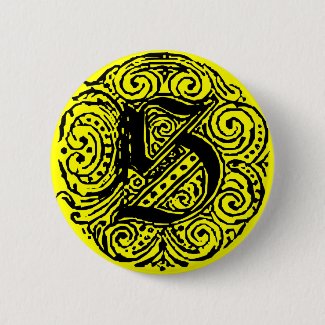 Monarchia "S" Pinback Button
by
AtoZunme
The Monarchia letter design is not for everyone though many more are respecting the beauty of it. Since I had opened my Sandyspider stores, I have followed my style. I have tried not to be a carbon copy of everyone else in product designs. Although recently I have included popular themed designs on gifts.

See some Sandy Mertens fancy letter
gifts from key chains, clothing, mugs, steins and more on Amazon.

Please leave a comment so I know you have visited. If the area does not show up, click on the "No Comments" to open up the comment area. Thanks!
Download your free gift eBook