Fabulous at 50 birthday party
(or 50th anniversary)
gifts
theme with black, white or teal background and gold letters to celebrate the half way mark to 100.
Turning 50
is a milestone. It is the age that one can look at it in a positive manner as fabulous or dwell on the fact that one is closer to the grave. A few months ago I was asked to create a couple of mugs for my nephew and niece-in-law's
birthday
with these special words for blue and teal mugs. I also added their photos to
personalize
the drinkware. (Note that you can change the background color to any of these gifts.)
Recently I had turned another year older myself. My nephew and his wife are now in the same age group I am in. OUCH!
Below are some delicious
treats and gifts
for the party. Click on the images to check out the prices and to purchase. More of these special day
celebration
gifts for all ages are found on
It's Your Birthday
at
Sandyspider Gifts
on
Zazzle
.
Hats Off to 50...Not an Old Bag
Fabulous at 50 in Black with Gold Letters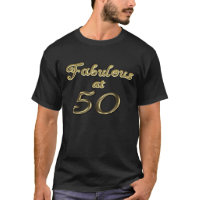 50 and Fabulous in Teal with Gold Letters