It is my pleasure to introduce to you Paula Finn, a talented poetic and inspirational writer with her messages on Zazzle greeting cards. Here is a short bio from the words of Paula Finn.
"I began my career as a Blue Mountain Arts contract writer licensing messages for their cards and calendars. Since then, my work has appeared worldwide on a variety of products, and was featured on ABC TV's 20:20 program. I've sold seven gift books, and consumers from around the world have thanked me for putting into words "exactly" what they feel. My most popular quotes have been re-posted on more than two million websites. This positive response has prompted me to start my own company, infinnite. We specialize in inspirational and heartfelt messages enhanced by the work of several amazing photographers."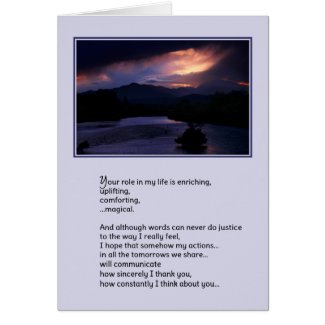 A heartfelt expression of love reassures your significant other of the depth and sincerity of your feelings. The thoughts are paired with a dreamlike image of a golden-peach sunset over a lavender-hued river. Infinnite products feature the work of top-selling inspirational writer Paula Finn. Designed by
inFinnite.com
.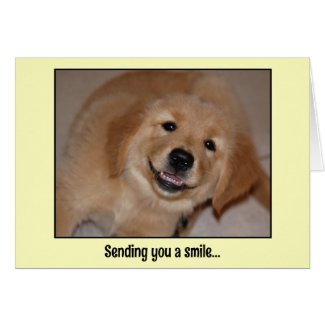 This card features Lark, an adorable smiling golden retriever puppy. "Sending you a smile..." Inside: "...'cause I can't be there to give you a hug!" A beautiful way to let someone know you're thinking of them fondly. This could work as a birthday card or as a message of comfort, too. Photo by Susan Scribner. Susan describes Lark as "such a silly girl…and very photogenic." Both qualities are evident in this image of Lark positively beaming with joy (and maybe a little mischief, too!). Quotes & Prose products feature the work of top-selling inspirational writer Paula Finn. We feel Lark is so special that we've put her on a variety of products including posters, cards, mugs and magnets…even a postage stamp! If you don't find exactly what you want…please let us know. Designed by
QuotesandProse.com
.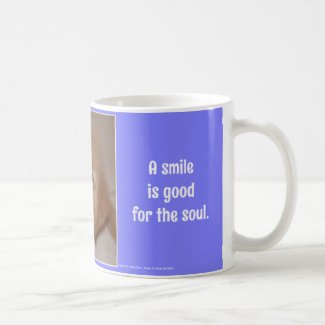 This mug features an image of Lark, an adorable smiling golden retriever puppy. The photo has a narrow white border and a blue background. The quote "A smile is good for the soul" appears next to the image. Photo by Susan Scribner. This heartwarming image paired with inspirational quote will brighten any day...anytime. Makes a perfect gift, too.

This inspirational card reminds the recipient that they have the power within to make the changes they desire. "At any moment, we can choose to try harder, to stand taller, and to reach farther." Inside: "You've got what it takes." The words are complemented by a stunning image of mountains and cliffs.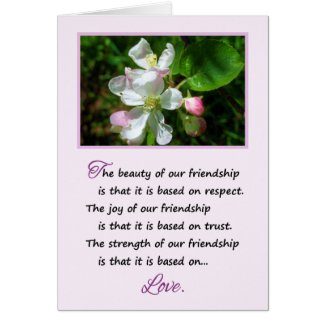 Apple blossoms decorate this celebration of a true friendship: "The beauty of our friendship is that it is based on respect. The joy of our friendship is that it is based on trust. The strength of our friendship is that it is based on…Love."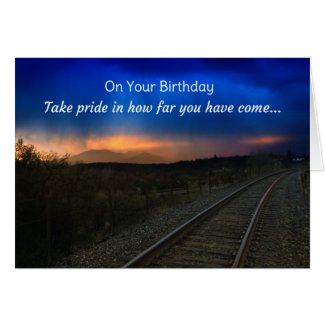 This inspirational birthday greeting card encourages the recipient to feel good about his accomplishments…and confident of his success: "Take pride how far you have come…" Inside: "Have faith in how far you can go. Enjoy your day!" This quote was originally licensed for nationally-distributed plaques, posters, framed wall decor, magnets, ceramic products and gift books; it has since been reposted on over two million personal, social media, and commercial websites. The words are enhanced by Robert Seals' spectacular photo of curving railroad tracks under a brilliant blue sky and misty orange sunset. The sunset appears to blanket distant mountain tops in a delicate orange haze, creating a stunning, ethereal effect.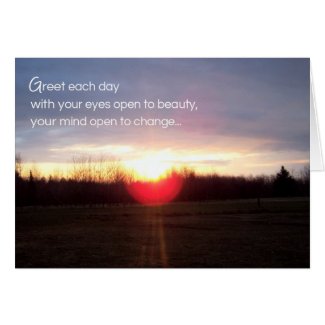 This card features one of Paula Finn's most popular inspirational quotes. The positive message encourages confidence in life's best: "Greet each day with your eyes open to beauty, your mind open to change..." Inside: "…and your heart open to love." The words are paired with Jill Murphy's photo of a bright red sun rising over a Midwestern field. This quote first became popular on nationally-distributed framed wall decor, posters, greeting cards and magnets; it has since been reposted on more than thirty thousand personal, social media and commercial websites. We also offer a version of this card that is blank inside.
"Everything I could ever want in a friend I have…in you." The words say it all…to an exceptional friend. This message has been a favorite among editors and consumers for several decades. Blank inside. This card has a beautiful photo of a flower bouquet on a red background, with these simple words of friendship.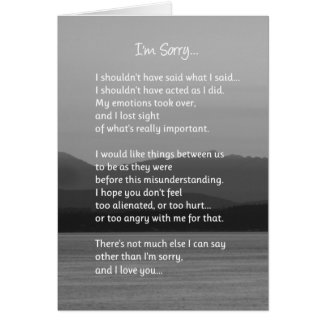 I'm Sorry...Relationships; Apology greeting card An apology…from the heart. "I shouldn't have said what I said…I shouldn't have acted as I did. My emotions took over, and I lost sight of what's really important. I would like things between us to be as they were before this misunderstanding. I hope you don't feel too alienated, or too hurt…or too angry with me for that. There's not much else I can say other than I'm sorry, and I love you…" Inside: "More than ever, I love you." The words are paired with a black and white landscape.